Welcome to our Website!
Please Report Feral Hog Damage HERE
August 23rd Board of Directors meeting has been CANCELLED due to lack of quorum,
BRIDGE REOPENED
BBTA (Bear Branch Trail Association) has reopened the Park Royal - Cedar Knolls bridge after repairing the handrail damage. BBTA strives to ensure that the trails and bridges are safe for resident use. BBTA apologizes again for any inconvenience this closure may have caused.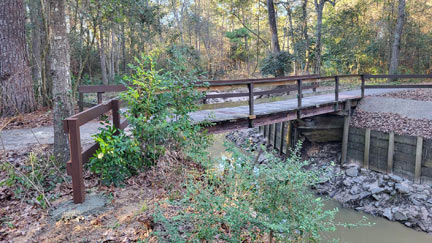 Get to know the community, walk the trails, enjoy the outdoors, and
please keep your pets on leashes.
Ride Friendly – Bicyclists should give an audible warning before overtaking pedestrians. A simple statement such as "passing on your left (right)" will do. A bicycle bell is a traditional signal.
Ride Safely – The Texas Code of Laws says that anyone under the age of 18 MUST wear head protection while riding a bicycle; it's a good idea for everyone.
Cell Phone Tips - If you need emergency assistance while on our trails keep in mind that 911 call takers cannot always locate your exact location from a cell phone. We and our sister trails have marked the block numbers of the streets by our trail entrances to help Emergency Services respond quickly. A trail fire can swiftly endanger homes, let the call taker know that a "trail fire is in progress" and give them the closest hundred block street number. Only HFD Booster trucks can extinguish fires in our wooded areas.
Be Thoughtful – Please take your trash home or place it in one of the trash receptacles located on the trails. A special thanks to all those conscientious walkers who carry plastic bags to pick up debris on the trail that has been carelessly discarded.

Bear Branch Trails and the Texas Drought - Worried about falling trees? What it has cost us so far. See details.


HOW THINGS FUNCTION (GET DONE) IN KINGWOOD

Many Kingwood residents may not understand how governmental and quasi-governmental organizations operate in Kingwood. This is particularly true of residents who have moved from other areas of the country. Because Houston does not have zoning, we depend on deed restrictions, enforced by our community associations to restrict how property owners use their property. Another organization, Kingwood Service Association provides services to the entire Kingwood community. Click here for an attempt to clarify how things function and get done in Kingwood.